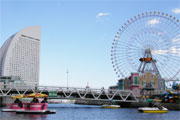 Yokohama, where the 3rd Quadrennial Meeting of the World Federation of Neuro-Oncology, jointly with the 6th Meeting of the Asian Society for Neuro-Oncology (ASNO) is taking place at PACIFICO Yokohama, is known for its port, resort, and international city.

It is located in Honshu, the main island, sits on a peninsula facing the western coast of Tokyo Bay and lies a mere 30 kilometers (18.6 miles) from Tokyo, the capital of Japan.

Yokohama is a lovely resort and port city, where you discover the truly Japanese beauty to the futuristic view of the waterfront skyscrapers. As the first Japanese port opened its gate to the world in 1859, Yokohama has created an interesting blend of Japanese and western cultures, commemorating its 150th anniversary of the port-opening in 2009.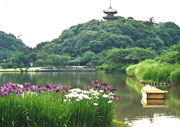 At the same time, since opened its gate, Yokohama has played a major role, a window to the world. Japan's first Western style hotel and restaurant were opened in Yokohama, and the city was also the site of Japan's first coffee shop and bakery as well as its first modern waterworks and railroads. Yokohama, built on its rich heritage of enterprising endeavor, has become a truly international city and Japan's largest international trading port.
Yokohama is also known for the city rich in excitement with unique attractions such as the world's biggest Chinatown, extended shopping districts and traditional Japanese garden and hot-spring facility. Contemplating in a serene Japanese garden "Sankeien", you can enjoy authentic Japan. Also, you will find the very best of jazz with nice Yokohama cocktails.
Yokohama is the second most populated city after Tokyo. The total population is 3,631,560. (As of February 2008)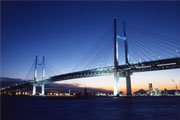 Yokohama is blessed with a temperate climate throughout the year. It's pleasant in spring and autumn, hot and humid in summer and has very little snowfall in winter (never goes below zero degree). Average temperature is 16 Degrees Centigrade (60.8 Degrees Fahrenheit).